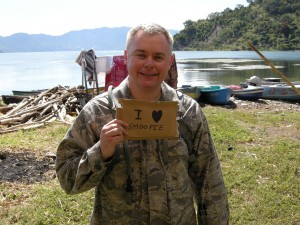 Name: Matt Zinn
Current City/State: Boise Idaho
Current Occupation: Air Force Nurse
Single/Married/Other: Married 1 year
Kids: Maya 7, Noah 8
Pets: 4 Dogs (I am not allowed to go to the dog pound anymore)
What H.S. group, club, sports or activities were you involved in?: Not much, just minded my business
What is your favorite high school memory?: Just seeing my friends every day
Miss anything about those days?: again seeing my friends every day
Military Service/College/Other: University of Arizona 90 to 94, Navy, University of Arizona 04 to 06, Air Force.
Significant Achievements?: Meeting my wife, the love of my life 3 years ago AKA: Smoopie
Places you've traveled?: Panama, Columbia, Costa Rica, El Salvador, Honduras, Japan, Hong Kong, Bahrain, Kuwait , Sicily, Singapore.