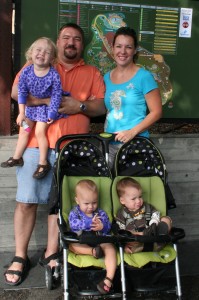 Name: Lori Phillips
Name in High School: Lori Smith
Current City/State: Tucson, AZ
Current Occupation: Stay at Home Mom
Single/Married/Other: Married to Charles 8 years
Kids: daughter Delaney age 3, daughter Kennedy and son Griffin age 19 months
What H.S. group, club, sports or activities were you involved in?: It's all somewhat hazy…debate? creative writing?
What is your favorite high school memory?: Hanging out in the pits and having our own spirit days. Moon boot day was the best. I also remember Mr. Proser very fondly and to this day have never attended a better lit class. I'm still working on my -isms. Bomb threats as a great reason to skip school for the day and do something else. I remember pink toilet paper making a sail in someone's tree and wondering if this will be the year in which the
awful truth with be revealed?
Miss anything about those days?: boundless energy
Military Service/College/Other: NIC and University of Idaho BA English
What have you been doing since June, 1990?: Got married, went to school, got a job, got a divorce, got married, left job to move to Arizona, had 3 kids in 19 months
Significant Achievements?: various career things as a technical writer and my kids of course!
Places you've traveled?: England, Portugal, Caribbean, Honduras, Mexico, Hawaii, lots of the U.S. and Canada
Anything else you want to share?: Looking forward to seeing everyone and catching up especially since we're planning to buy a summer home in Coeur d'Alene this year. 20 years went by really fast…