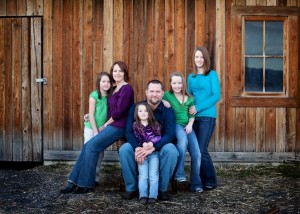 Name: Melanie Dalton
Name in High School: Melanie Cox
Current City/State: Providence, Utah
Current Occupation: Part time piano teacher, stay at home mom
Single/Married/Other: Married to Jason Dalton for 15 years
Kids: 4 daughters: Mary Jo 12, Riley 10, Abby 9, Eliza 5
Pets: 1 cat
What H.S. group, club, sports or activities were you involved in?: Well, maybe…none???
What is your favorite high school memory?: too many fun times to list, I had a blast in high school
Miss anything about those days?: Being with my friends and feeling free.
Military Service/College/Other: Bachelors of Speech and Language Pathology at BYU
What have you been doing since June, 1990?: I went to BYU for 2 years, served an LDS Mission to Cape Town South Africa for 18 months, went back to BYU, got married, graduated, and then started a family. I have been
teaching piano lessons for 12 years and am lucky to be at home with my kids every day.
Significant Achievements?: My 4 beautiful daughters and a happy marriage.
Places you've traveled?: Utah, California, Arizona, Colorado, Wyoming, South Africa
Anything else you want to share?: I know I didn't graduate from CDA but it will forever be my "High School", we moved my senior year and the high school I did graduate from never measured up. I am sad to say I won't be at the reunion, perhaps another time….