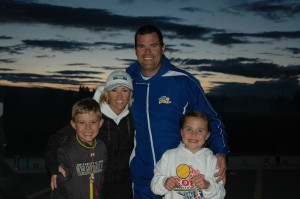 Name: Brandie Chapman
Name in High School: Brandie Beebe
Current City/State: Hayden Lake, ID
Current Occupation: Realtor; Century 21 Beutler & Associates
Single/Married/Other: Married 13 years to Mike (92′ CHS Grad)
Kids: 9 year old twins  (boy) Ryan & (girl) Reilley
Pets: 2 Golden Retrievers, Sam & Gus
What H.S. group, club, sports or activities were you involved in?: Cheerleading, Student Council, DECA
What is your favorite high school memory?: '67 VW Bug, the 5 B's and old Cedars Road.  Honorable mention. . . Krista Babe, Jen and "going down the
easy slope. . . alright"
Miss anything about those days?: The same '67 VW Bug, the 5 B's and old Cedars Road.
Military Service/College/Other: University of Idaho 90-94
What have you been doing since June, 1990?: Graduated from U of I in 1994. Worked for Kappa Kappa Gamma as a National Traveling Consultant for a year. Had the greatest first roommate, Christina Nickel, (Thanks Nuggs that was a great time) Worked for Jacklin Seed Company as the Marketing Manager from 1995-2000.  Got married in 1997, had kids in 2000.  Stay at home mom from 2000-2005.  Real Estate career began in 2005.  Currently a stay at home mom selling Real Estate for fun!!
Significant Achievements?: By far my children!!
Places you've traveled?: Most states in the US. Canada, Spain, Denmark, Morocco, Mexico (Cabo, PV, Acapulco, Mazatlan), Anguilla, St. Martin, St.
Thomas, St. John & Aruba
Anything else you want to share?: Really looking forward to seeing everyone.  And to the Reunion Committee, thanks for all your hard work
you're doing an amazing job!